(1) Introduction
Westerbeck and Meyerowitz (R2) are calling street photography as:
'The spontaneous and arty motivated photography at public places which is influenced by issues which can be assigned since the beginning of photography'.
The difficult but profoundly interesting 'process' of street photography is to concentrate the emotional impression of very short-lived candid moments by the help of aesthetics, symbolism, contrast and composition.
It is also the 'surreal' aspect to catch harmonious, mad, absurd, ironic, contradicting, cynical etc. relations and moments in the normal, everyday and therefore 'real' world of human life.
Therefore street photography has the concept of the genuine instant but also the intuitive one chance process plays a major role.
Street photography is mostly driven by the following properties:
| | |
| --- | --- |
| un-staged | not posed nor planed or staged |
| public | people and their surroundings within the public |
| commonplace | the daily human life in its everyday oddness |
| candid | candid moments of a split-second |
| emotional | from tragic to humorous |
| mixed subjects | Portrait, Architecture, Landscape and Reportage |
(2) Surreality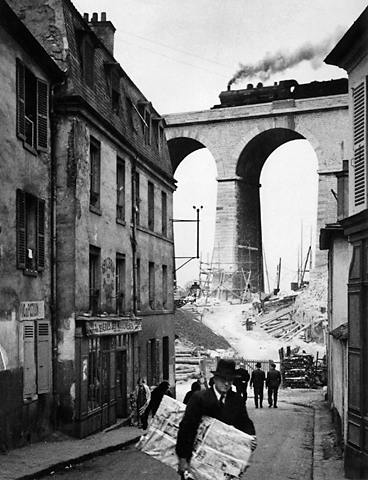 Street Photography is realized very differently and the art imagery is mostly a mixture of history and up-to-date elements.
Above 'Meudon' from Kertész as an example for the 'surreality' imagery:
A train is passing the viaduct from right to left. In the foreground a man with a black hat is passing the street from left to right. In the background some people are moving in different directions. Nothing in this photograph is exceptional itself. There is no special incidence. This photograph does not declare something. The visual attraction is based on the contradictions. The massive, great viaduct is looking like a toy train, the well-dressed man in this poor environment? What does he carry in his arm? This photograph is reality, but it is also surreality, like a dream, painting or film scene -
'it is the surreality of real life'.
André Kertész (1894-1985) was a Hungarian-born photographer with ground- breaking contributions to the photographic composition and the photo essay.
(3) The Decisive Moment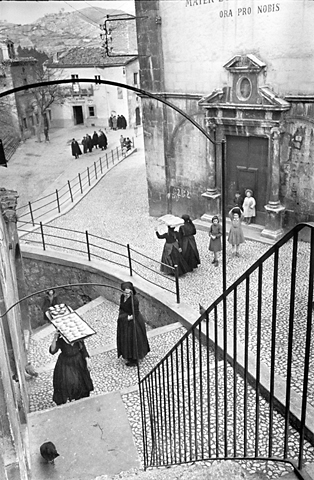 'It is the simultaneous recognition, in a fraction of a second, of the significance of an event as well as the precise organization of forms which gives that event its proper expression.'
- Henri Cartier-Bresson -
Henri Cartier-Bresson (1908-2004) was a French painter and photographer with a big influence on real life reportage and candid photography. In 1947, Cartier-Bresson, Robert Capa, David Seymour and George Rodger founded the Magnum photographic agency. In 1952, Cartier-Bresson published his book 'The Decisive Moment' which gets a trend-setting on many photographers.
(4) Symbolism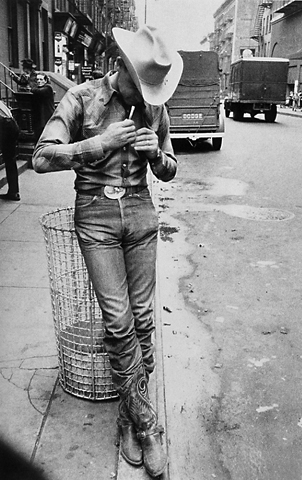 There are a few single works of art that have changed the direction of their medium.
Robert Frank (1924-2019) and his photographic book 'The Americans',
(attached some data on this series)
published in 1958 summed up the American life-style in a way that no one had covered before and the book was heavily influential on the style of many photographers.
Robert Frank often has combined the everyday life with symbols, like the juke box, or the American flag to a series of iconographs on the time and place.
'I saw this guy take photographs.
And I want to be a photographer.
I want to go out in the street and take photographs of life.'
- Joel Meyerowitz - to his boss on quitting his job as advertising art director.
(5) The Raw Essence Of Life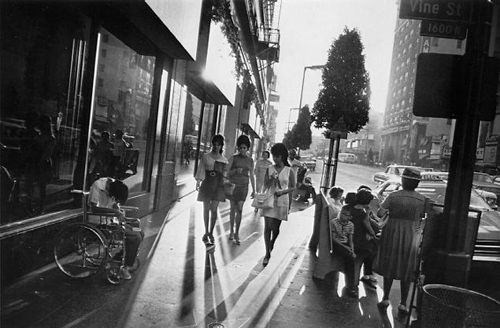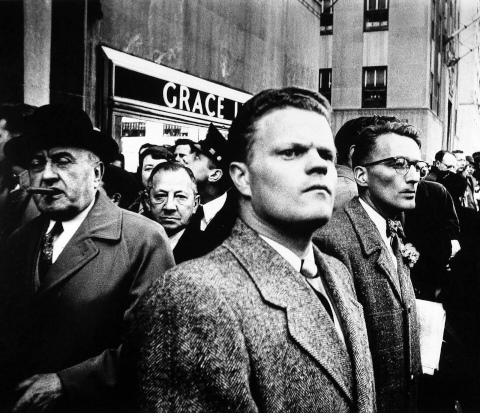 'When I'm photographing, I see life,
That's what I deal with. I don't have pictures in my head.
I don't worry about how the picture is going to look.
I let that take care of itself.
It's not about making a nice picture.
That anyone can do.'
- Garry Winogrand -
Winogrand (1928-1984) was continuously chasing after the eternal nowness of life itself in all its raw, near, unmediated energy. Winogrand, Robert Frank and William Klein where focusing on the real essence without any kind of formal rationality. This approach still remains as the hugely influential figure on todays street photography.
William Klein (born 1928) is an American-born French photographer noticed for his ironic approach and his extensive use of unusual photographic techniques against the established art styles.
(6) Color Composition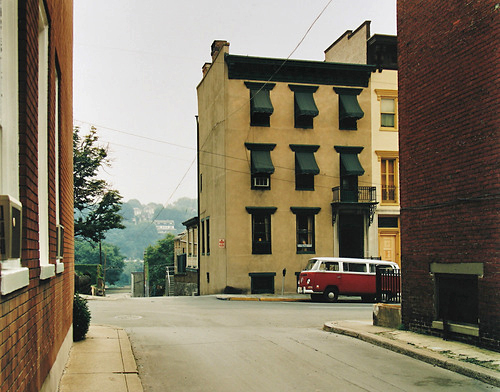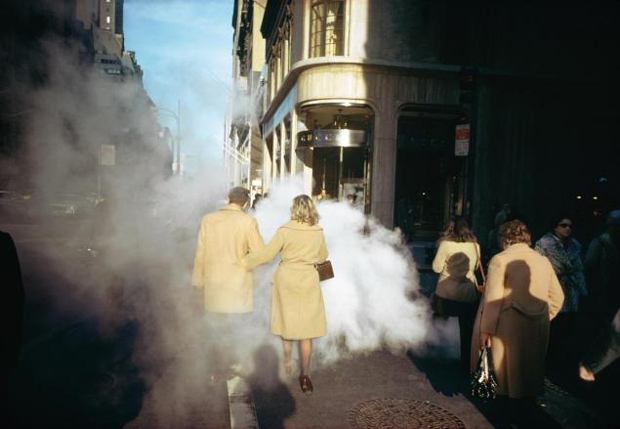 Stephen Shore (born 1947) began artistic photography at the age of fourteen, with 24 Shore became a solo exhibition at the MoMA.
Shore is known for his composed colored includes of banal scenes and objects.
Joel Meyerowitz (born 1938) began photographing in 1962 as a 'street photographer' in the tradition of Henri Cartier-Bresson, Robert Frank and Eugene Atget. In the mid 60´s, along with Stephen Shore and William Eggleston he was an early advocate of color photography.
His work has appeared in over 350 exhibitions and he is the author of 15 books, including 'Bystander: The History of Street Photography'.
(7) The Photographic Essay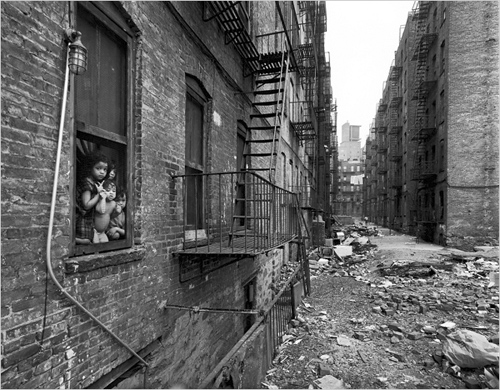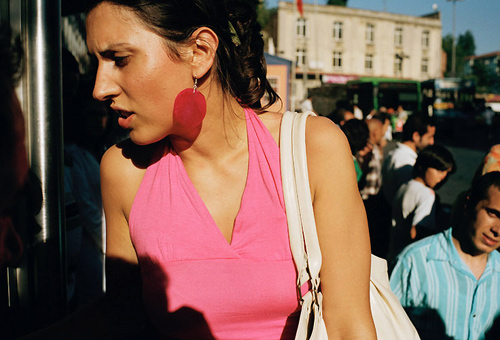 In 1966 Bruce Davidson started a two-year project in East Harlem, NYC. He visited East Harlem daily, getting to know and takes contact to its inhabitants and photographing their lives. This photographic essay was published in a book titled "East 100th Street".
'Like the people who live on the block, I love and hate it and I keep going back.'
- Bruce Davidson -
Andreas Herzau (born 1962) is a German photographer working on Reportage, Essay and Portrait photography. He is documenting the many facets of human life as composed essays.
(8) History
The following overview is not to be understood as an academic chronology. Its just an attempt to combine the influences out of time period, technique and art to the development of street photography.
The thematic birthplace of street photography is Paris in the middle of the last century in terms of street = 'real life outside from the studio'.
The term 'Street Photography' itself where allocated by some New York photographers in the mid 60s in form of a 'non-commercial photography of the urban life'.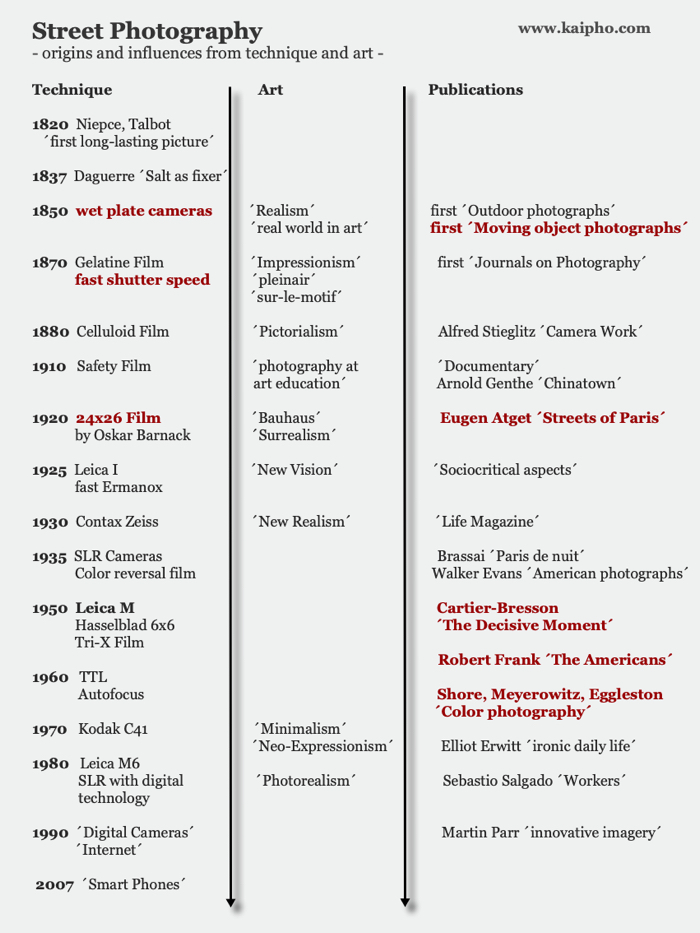 (9) Selected Photographer
| photographer | born | performance |
| --- | --- | --- |
| Eugene Atget | 1857 | aesthetic view on the streets of Paris |
| Alfred Stieglitz | 1864 | pioneer: photography as art |
| Paul Strand | 1890 | pioneer: photography as art |
| André Kertész | 1894 | 'Whatever we have done, Kertesz did it first' |
| Dorothea Lange | 1895 | co-founder of documentary |
| Alfr. Eisenstaedt | 1898 | spontaneous moments, LIFE photographer |
| Brassaï | 1899 | 'Paris de nuit' 1933 |
| Walker Evans | 1903 | 'American Photographs' 1938 |
| Cartier-Bresson | 1908 | 'The Decisive Moment' 1952 |
| Willy Ronis | 1910 | humanistic photography |
| R. Doisneau | 1912 | street culture of Paris |
| Helen Levitt | 1913 | pioneer of colored street photography |
| Robert Frank | 1924 | 'The Americans' 1959 |
| Elliott Erwitt | 1928 | Member of Magnum - ironic, absurd situations |
| G. Winogrand | 1928 | raw, near street photographs |
| William Klein | 1928 | 'against the established' |
| Leonard Freed | 1929 | Member of Magnum - classic photo essays |
| Fred Herzog | 1933 | Pioneer of Colored Street Photography |
| Bruce Davidson | 1933 | Member of Magnum,'East 100th Street' 1970 |
| Lee Friedlander | 1934 | urban life, new elements |
| Joseph Koudelka | 1938 | Member of Magnum, 'Invasion Prague' 1968 |
| Joel Meyerowitz | 1938 | artistic color photography - book author |
| W. Eggleston | 1939 | pioneer of daily motives as colored photo |
| S. Salgado | 1944 | many projects e.g 'Workers' 1993 |
| Stephen Shore | 1947 | pioneer of color photography |
| Martin Parr | 1952 | Member of Magnum - innovative imagery |
| Alex Webb | 1952 | Member of Magnum - color street photography |
| Peter Bialobrzeski | 1961 | urbanity and humans habitat |
| Todd Hido | 1968 | urban and suburban human habitat |
| Matt Stuart | 1974 | nominee of Magnum, mainly active in London |
(10) Bibliography, References
(1) 'Street Photography From Atget to Cartier-Bresson'
by Clive Scott - 2007
'This book describes the complex relationship with parallel literary trends as well as its more evident affinity with impressionist art.'
(2) 'Bystander: A History of Street Photography'
by Joel Meyerowitz and Colin Westerbeck - 1994
'The history of street photography described in both text and photographs.'
(3) 'OPEN CITY. Street Photographs since 1950'
by Russell Ferguson and Kerry Brougher and the Museum of Modern Art Oxford
'A good supplementation on the Bystander.'
(4) 'Great Street Photography constitutes a new way of seeing'
->
"Times Article by Nick Turpin"
(5) German 'Ja, was ist Sie denn, die Strassenfotografie ?'
->
Blog statement by Andreas Herzau
(6) ebook 'Storytelling in street photography'
->
eBook by Marie Laigneau
(7) ebook 'An Exploration of Creativity - through the lens of 8 contemporary street photographers.'
->
eBook 2016 by Marie Laigneau